Hey there, snow bunnies and photography enthusiasts! 📸❄️ Gather 'round as we take you on a magical journey to the picturesque Pinecrest Lake in California, where Sydney's senior portraits became a dreamy winter wonderland. Get ready to be whisked away to a serene snowy paradise!
Imagine a place where snow-kissed trees stand tall, and the lake's surface glitters like a million diamonds – that's Pinecrest Lake in all its glory. And guess what? Sydney totally stole the show against this enchanting backdrop, enhanced by the magical touch of makeup artist Kelsey Lane, located in Sonora, California. If you are looking for a killer hair and makeup artist then go follow her on instagram here!
Let's talk vibes, people. Pinecrest Lake is like something out of a fairy tale. The snow-covered landscape creates a canvas that's both peaceful and poetic. Sydney's portraits were like something straight from the pages of a storybook, where she was the protagonist of her own winter tale. Sydney looked
The snow, the trees, and that serene lake – they all came together to create an atmosphere that's nothing short of magical. Sydney's portraits captured not just her personality, but the essence of the season. It's like she brought the winter wonder to life through every click of the camera.
But here's the real kicker – Pinecrest Lake is not just a backdrop; it's an experience. The tranquility of the surroundings and the untouched beauty of the snow provide a canvas that's both calming and captivating. Sydney's portraits aren't just photos – they're moments frozen in time, capturing her senior year in all its snowy splendor.
So, why is Pinecrest Lake the ultimate spot for senior portraits? It's more than just a location – it's an idyllic escape. Against the backdrop of glistening snow and the calm waters of the lake, Sydney's portraits tell a story of winter beauty and senior year excitement.
For all you seniors out there dreaming of an unforgettable portrait session, Sydney's got a lesson for you. Find a spot that reflects your personality and the magic of the season. Pinecrest Lake? Oh, it's like stepping into a snow globe where your senior year unfolds in the most enchanting way possible. 🌨️📸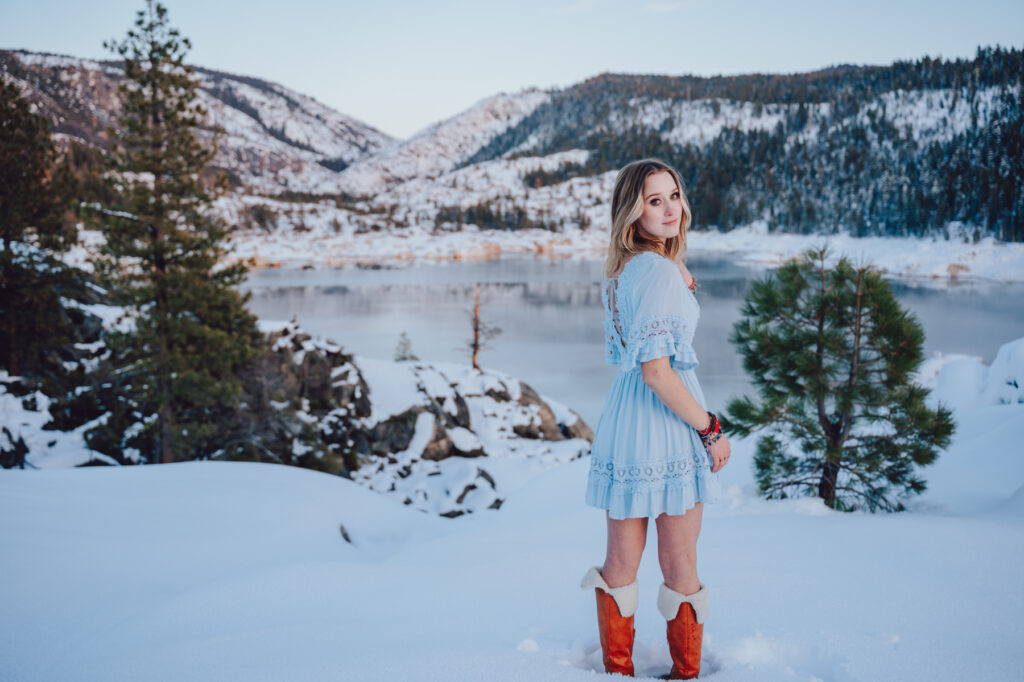 Go Follow us on Instagram
Our new Senior Photography page: @storybookseniors
Hair and Makeup: @beautybykelseylane
Senior: @sydney.chesson